Gartman Offers A Vast Array Of Resources For Its Floor Covering Distributors
When it comes to software . . . shiny demos and sales pitches can lead to new business, but all too often once the contract is signed, they fail to meet promises made.
At Gartman, we consider each of our distributors to be a valuable, long term partner and it shows. Access to a software solution exclusively designed for floor covering distribution is just the beginning.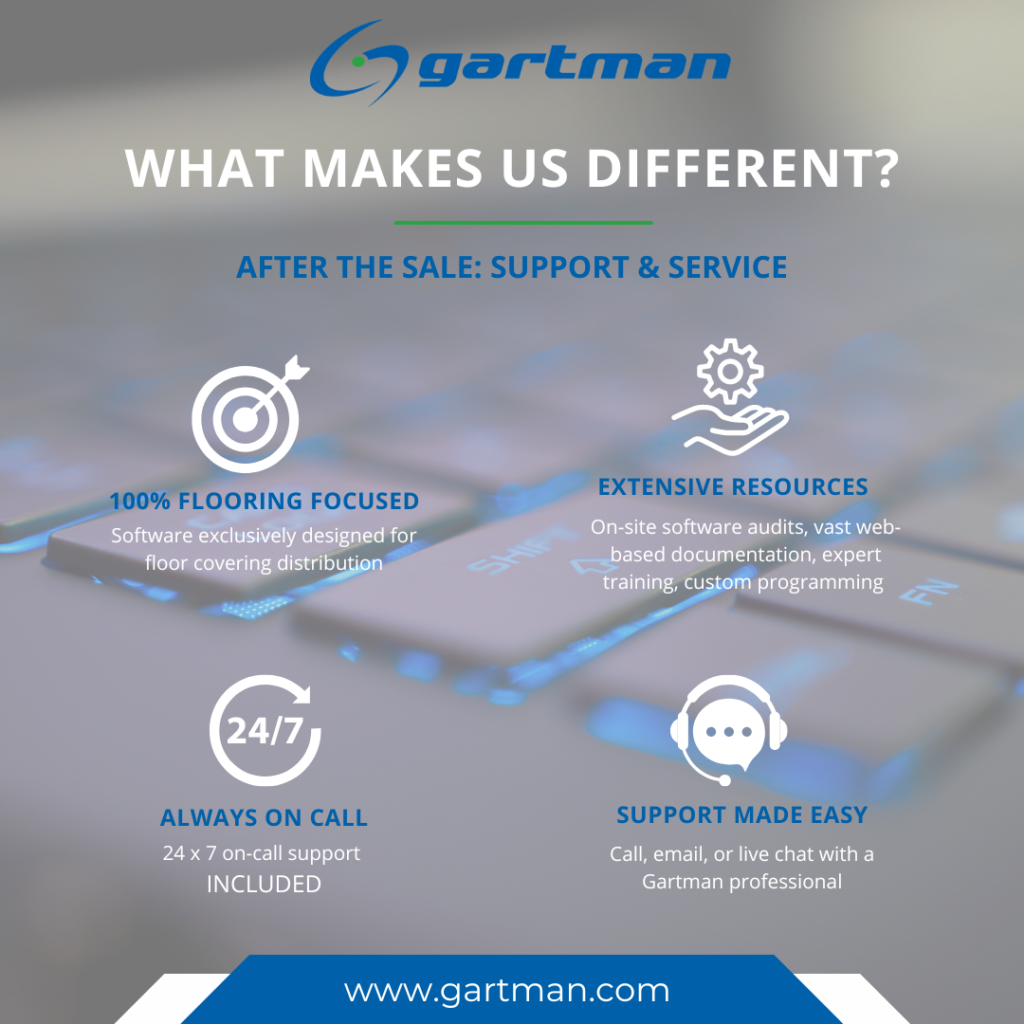 From 24 x 7 support to on-site software audits and beyond, Gartman has been providing best in class service and support to our flooring distributors since 1980.
Flooring Expertise
Gartman's highly skilled professionals know our software inside and out, while also understanding the unique challenges flooring distributors face. This team is dedicated to ensuring each customer gets the most out of their investment in the DMS solution.
Above and Beyond – Customized Support and Services
Gartman offers an extensive array highly specialized service and support options. In depth, on-site software audits, custom development and programming, alongside a variety of training formats are all available. Many distributors have found these offerings incredibly valuable in their day to day application and long-term use of the Gartman DMS platform.
Resources
Gartman Knowledge Base/Software Wiki
Housed under the Customer Resources section of our website, Gartman customers have exclusive access to a full library of documentation via the Gartman Knowledge Base and Wiki. This provides an extensive collection of information including release notes, field level definitions for every screen, shareable links, downloadable pdf manuals, and much more.
Extensive time and resources are devoted to ensuring the information is up to date and relevant. "Our goal is to provide a centralized resource that can address almost any question or issue that arises while using Gartman's software," said Senior Business Analyst Melinda Choate.
Video Training Library
Another component to the Knowledge Base and Wiki outlined above is Gartman's popular video training library. This includes a vast selection of videos covering topics such as release overviews, procedural instructions, file maintenance training, and beyond.
Around the Clock Support
Live support is always available as a Gartman customer. Gartman's help desk, which can be utilized via phone, email, or live chat is available during normal working hours, Additionally, we know business doesn't stop at 5 pm. That's why we offer 24 x 7 live support for emergency situations outside of business hours. Even better? This service is INCLUDED, unlike most software providers that put a premium price tag on this service, if offered at all.
Interested in details about Gartman's software portfolio or more about the resources, support, and services outlined above?